Golf Tips for Beginners: Equipment, Etiquette, and More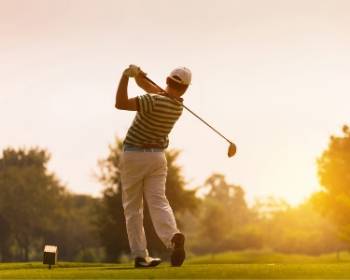 Golf is a game that is easy to enjoy but difficult to master. That said, it's never too late to start, and there have been a number of professional golfers who took up the game later in life.
But before making your first tee time, consider this advice for beginners.
5 Golf Tips for New Players
Get the right equipment.
You don't need to spend a fortune on a good set of clubs. In fact, there are many online retailers that sell quality used clubs at very affordable prices. But make sure you're getting the right kind of clubs.
There are clubs designed for the more advanced player and others designed for the novice, which feature larger sweet spots and more flexible shafts to help you get the ball airborne and forward.
Take a lesson.
Taking an introductory lesson can get you pointed in the right direction regarding all the basics of the golf swing and can stop any bad habits before they form. Nearly all courses (and many driving ranges) have teaching professionals on staff who can give you a private or group lesson.
Learn basic etiquette and rules.
Golf has many idiosyncrasies like where to stand, when to hit or not hit your ball, and a rather complex rulebook. There's also a lot of terms to know. It's not uncommon to be paired up with strangers when you make a tee time, so knowing some of the basic etiquette and rules will help you keep up.
Find a good course for beginners.
No two golf courses are created equal, and the courses you see the professionals play on TV are far more difficult than the one a beginner should be seeking. Par 3 courses are short courses where every hole is a par 3 (meaning shorter and less demanding) and are perfect for beginners. Golf in Leland, NC, is actually quite accommodating for beginners, with courses that feature multiple sets of tee boxes that allow everyone to play from a distance that suits their skill level.
It also helps to learn what "course rating" and "slope" numbers mean. These are two measurements of a course's difficulty and can typically be found on a course's website or scorecard.
Know what to wear.
Golf is a game that is high on fashion, but there's actually a lot of substance to all that style. Clothes designed specifically for golf allow your body to stretch and move the way it needs in order to swing a club without restriction. Many are also engineered to block UV rays and protect your skin. And golf requires a lot of walking -- even when using a cart -- so a good pair of golf shoes is important for both comfort and traction.
Tee Off in Leland
You have the right clothes and equipment. You know the basic etiquette and rules. You've had a lesson or two to figure out the swing. And you've found a good course for beginners. The only thing left is to follow one last popular golf tip:
"Grip it and rip it."
If you want more information on good places to golf in Leland, NC, reach out to us.