The Disc Golf Course at Leland Municipal Park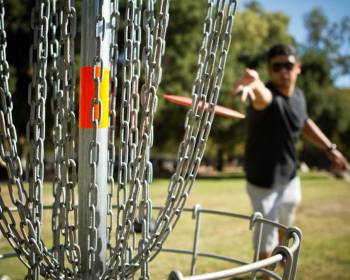 Leland, North Carolina, is home to a pair of widely recognized golf courses in Cape Fear National and Magnolia Greens. But if traditional golf isn't your thing or you're just looking to switch it up, another option awaits. Leland Municipal Park features a disc golf course that attracts players from all over.
Learn about this course below and make it part of your next trip to Leland.
About the Leland Municipal Park Disc Golf Course
The 9-hole disc golf course at Leland Municipal Park opened in 2018 and features basket targets coupled with natural teeing areas. It measures 1,957' in length with a par of 29 and sits comfortably in the "preferred length range" according to the Disc Golf Association. The course is mostly flat and features sparse foliage, making for an enjoyable walk in the park.
Here is a look at the scorecard for Leland Municipal Park's disc golf course:
About Leland Municipal Park
While the disc golf course is the highlight of the property for any disc golf enthusiast, it's hardly the only attraction. A playground, gazebo, stage, picnic tables, benches, green spaces, and 0.6-mile paved path all sit comfortably in the nearly 8-acre park and serve as a nice place to have lunch after the round.
There's also a free wireless internet connection, so you can stream music or catch up on the news while you play some disc golf.
Visit Leland, NC, Today
A round of disc golf is just one of many on a long list of activities to enjoy during a trip to Leland. Check out the historic district for a dose of fascinating history. Explore the lively entertainment scene featuring art, theatre, music, and more. Shop and dine at the many downtown locales. Or take it the great outdoors at Leland's beaches, parks, and nature preserves.
No matter what you're looking for, you'll find it in Leland, NC.